2018 年 10 月 23 日
Comments off
Here is the rest of the Q&A
from the previous post.
11)How many original characters
do you have for your manga?
A lot. Litelary, a lot.
Recently I've started drawing more of fan-art charaters, too.
12)Draw an illustration from top-view.
Top-view! Here is my rough illustration.
Gosh, I'm sure I'd like to change it later.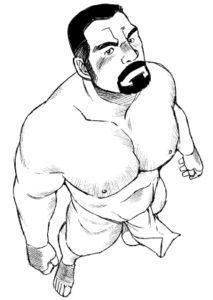 13)How are you learning how to draw?
Hmmm, reading books, Googling how to
and asking friends.
14)List up the hair styles you often draw.
Buzz-cut or flat top short hair.
I hardly draw long hair, I think.
15)Can you use"Copic" coloring pen?
Yes, I can. Well, I was able to once LOL.
When I was a college student,
I drew cars and other still objects
using that marker.
I don't think I can draw the same thing now!
16)Which part of body
you're having hard time to draw?
Foot, definitely.
I love drawing it but never satisfied.
17)List up the pen you use often
(digital or analogue)
It's G-pen. I use G-pen and Maru-pen often.
19)Which one do you often draw,
your original characters or
fan-art characters?
Original characters, but recently
I've started thinking to draw more
fan-art characters, too, to expolore
my creativity.
20)About your art, what would you
like to do in the future?
Well, a bit seriouly though,
now I'd like to focus on just
keeping on drawing as a craftman.
Since lots of things settled down finally
(regarding my life), now I just simply
would like to enjoy what I can do.
I'm sure it will change in the future though.
THAT'S ALL!!!
[PATREON & PIXIV FANBOX]

I've started PATREON.
I'm showing the backstage process of
my manga/illustration production.
Are you wondering how my manga/illustration is
created? Just come join and witness it!
For your convenience, all in English.

Here is Japanese version of PATREON,
PIXIV FANBOX.
My posts are both in Japanese and English.