NEW BOOK, "Ai-no-Kiseki (LOVE MIRACLE)"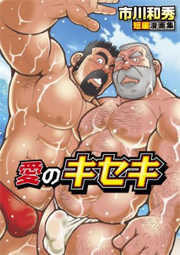 12 erotic short love stories of my mangas from 2011 to 2013 are in this book. It covers from jocks to daddies (as usual LOL). Interesting sexy stories of boy-meets-boy!
Currently available at G-Tsuhan-Kobo
Also available at AMAZON
KAZ (Kazuhide Ichikawa)
Japanese gay manga creater
info@ichikawado.net
Also please visit my image gallery at "flickr", too.
Twitter:@ichikawado
Facebook:http://facebook.com/ichikawado



Check out my online serial short story.
A brave LGBT local councilor in Japan, Aya Kamikawa's homepage.



2023年9月
月
火
水
木
金
土
日
« 2月
1
2
3
4
5
6
7
8
9
10
11
12
13
14
15
16
17
18
19
20
21
22
23
24
25
26
27
28
29
30
archives