2019 年 12 月 26 日
Comments off
Here is the items
menu of my circle
at C97, Fuyu Comiket.
Now I'm preparing
a free handout.
Please look forward!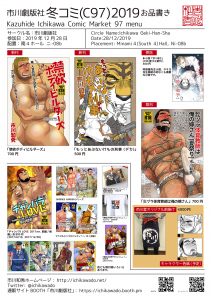 TAKING NEW MANGA MAIL ORDER NOW
AT MY BOOTH ONLINE STORE.
[BOOTH online store]
At my BOOTH online store,
you can purchase my manga and items.
Printed manga and digital downloadable manga are
both available.
Check them out!
To purchase printed manga, there's
the international mail-order service.
With this service, now you can buy gay
manga by the other Japanese gay manga
artists, too!
TENSO.COM