2018 年 11 月 3 日
Comments off
I'll be at Comic Market 95
in December.
Here is the information
of the event.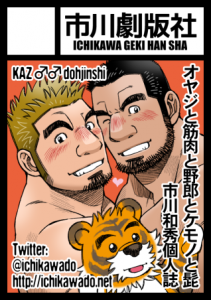 EVENT TITLE: Comic Market 95
VENUE: Tokyo Big Site
DATE: December 29th, 2018
ALLOCATION: WEST HALL (西地区,
Nishi chiku), ま(Ma) Block, 24a
CIRCLE NAME: Ichikawa Geki-Han-Sha
(市川劇版社)
I'm working on new dojinshies right now.
If you are around in Tokyo, just drop by!
[BOOTH online store]
At my BOOTH online store,
you can purchase my manga and items.
Printed manga and digital downloadable manga are
both available.
Check them out!
To purchase printed manga, there's
the international mail-order service.
With this service, now you can buy gay
manga by the other Japanese gay manga
artists, too!
TENSO.COM