2019 年 5 月 29 日
Comments off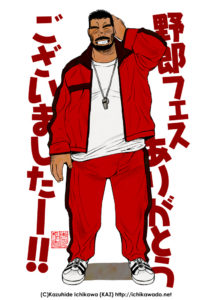 On May 26th,
we had Yarou Fest 2019.
Thank you very much,
everyone, for dropping by.
I really hope we all had
a fun time there.
Also, I must apologize that
I didn't have enough time to
have chat with everyone.
On that day,
I went to the event hall early morning
to help to get the event ready.
(I just did simple work though)
When I got there,
there were already so many
Yarou Fest staff running around.
Usually the most of us
doesn't realize though,
indeed they were the great contributors
to make the event
safe, fun for everyone, and gay-friendly.
Lots of people think
Yarou Fest is a gay event,
but it's not true.
It is a "gay-friendly" event
that has been operated
by various people and
their hard work.
I must say we all must not forget
about this.
AGAIN, I really thank, everyone,
for Yarou Fest.
Literally everyone.
HUGS and KISSES.
AND congratulations for
Yarou Fest for its 10th anniversary.
I hope we can have
the next Yarou Fest soon.
[BOOTH online store]
At my BOOTH online store,
you can purchase my manga and items.
Printed manga and digital downloadable manga are
both available.
Check them out!
To purchase printed manga, there's
the international mail-order service.
With this service, now you can buy gay
manga by the other Japanese gay manga
artists, too!
TENSO.COM