2019 年 10 月 2 日
Comments off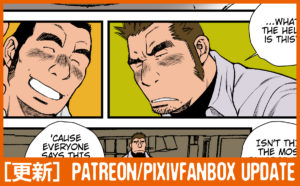 I've just updated
Patreon and PixivFanbox.
My manga,
"TODAY'S MENU FOR GROWN-UPS"
"Misonikomi Udon" episode.
Actually
"Misonikomi Udon" is
the local cuisine in
Nagoya city.
Translating is
really tough this time
because it contains
lots of local jokes
and such.
I tried so hard!
Anyway,
bon appétit!!
[PATREON UPDATE]
MANGA, "TODAY'S MENU FOR GROWN-UPS, Misonikomi Udon"(2)
Gay life + food + KAZ manga, Bon appétit!!
https://patreon.com/posts/30432530
[PixivFanbox更新]
漫画「オトナのごはん・味噌煮込みうどん」(2)
ゲイライフ+ごはん+市川漫画の2枚目 どうぞめしあがれ♪
https://pixiv.net/fanbox/creator/2269822/post/585856
[PATREON & PIXIV FANBOX]

I've started PATREON.
I'm showing the backstage process of
my manga/illustration production.
Are you wondering how my manga/illustration is
created? Just come join and witness it!
For your convenience, all in English.

Here is Japanese version of PATREON,
PIXIV FANBOX.
My posts are both in Japanese and English.