PATREON & PixivFanbox UPDATE
Here I updated
my Patreon and
PixivFanbox page.
6th page of my anga,
"TODAY'S MENU FOR GROWN-UPS"
Gay life + food + KAZ manga.
Bon-appetit!!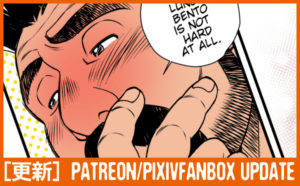 [PATREON UPDATE] "TODAY'S MENU FOR GROWN-UPS (6/9)"? (English)
https://www.patreon.com/posts/29328311
[PixivFanbox更新]「オトナのごはん(6/9)」(日本語版)
https://www.pixiv.net/fanbox/creator/2269822/post/520760
[PATREON & PIXIV FANBOX]

I've started PATREON.
I'm showing the backstage process of
my manga/illustration production.
Are you wondering how my manga/illustration is
created? Just come join and witness it!
For your convenience, all in English.

Here is Japanese version of PATREON,
PIXIV FANBOX.
My posts are both in Japanese and English.