PATREON/PixivFanbox UPDATE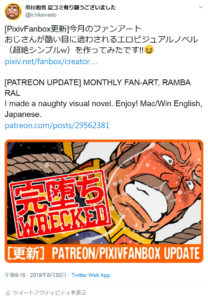 Here I updated
my PATREON/PixivFanbox.
This time, I made
a visual novel using my fan-art of
Capt. Ramba Ral from the anime
Gundam.
What is "visual novel"?
https://en.wikipedia.org/wiki/Visual_novel
Though it's just a simple
visual novel of the illustrations with
a short story.
The story proceeds by clicking the
illustrations. BUT, it comes with
"naughty" sound effects!
Well, well, well,
Capt. Ramba Ral is
having a hard time.
Don't miss this update!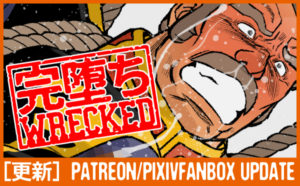 [PixivFanbox]今月のファンアート(日本語)
https://www.pixiv.net/fanbox/creator/2269822/post/533821
[PATREON] MONTHLY NAUGHTY FAN-ART, "RAMBA RAL",
VISUAL NOVEL (ENGLISH)
https://www.patreon.com/posts/29562381
[PATREON & PIXIV FANBOX]

I've started PATREON.
I'm showing the backstage process of
my manga/illustration production.
Are you wondering how my manga/illustration is
created? Just come join and witness it!
For your convenience, all in English.

Here is Japanese version of PATREON,
PIXIV FANBOX.
My posts are both in Japanese and English.