MONTHLY NAUGHTY FAN-ART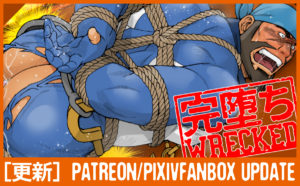 I've posted
MONTHLY NAUGHTY
FAN-ART on
Patreon and PixivFanbox.
Archie the Aqua leader
from POKEMON!!
OMG!
He's in trouble!?
CHECK IT OUT!!
[PixivFanbox更新]
今月のファンアート「アオギリ」
このヒゲとか顔のキズとかすごい好きなワケですw
https://www.pixiv.net/fanbox/creator/2269822/post/581888
[PATREON UPDATE]
MONTHLY FAN-ART, "ARCHIE" from POKEMON.
Woo-hoo, I really wanted to draw him! Oh, no, Archie's in trouble!?
https://www.patreon.com/posts/30361636
[PATREON & PIXIV FANBOX]

I've started PATREON.
I'm showing the backstage process of
my manga/illustration production.
Are you wondering how my manga/illustration is
created? Just come join and witness it!
For your convenience, all in English.

Here is Japanese version of PATREON,
PIXIV FANBOX.
My posts are both in Japanese and English.