PATREON/Pixiv FanBox UPDATE
I've started
a new manga on
my Patreon/PixivFanbox.
"SUCH A CASUAL WORK"
It's about a guy
try to take a naughty
video of himself
to cross off his debt.
Of course,
it won't be just a
video shooting!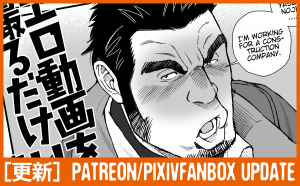 【Pixiv FanBox更新】
完全新作漫画「エロ動画を撮るだけ!!」(1)
https://pixiv.net/fanbox/creator/2269822/post/765931
[PATREON UPDATE]
NEW MANGA, "SUCH A CASUAL WORK"(1)
https://patreon.com/posts/33083614
[BOOTH online store]
At my BOOTH online store,
you can purchase my manga and items.
Printed manga and digital downloadable manga are
both available.
Check them out!
To purchase printed manga, there's
the international mail-order service.
With this service, now you can buy gay
manga by the other Japanese gay manga
artists, too!
TENSO.COM