PATREON/PixivFanbox UPDATE
I posted 2nd
page of my manga,
"SUCH A CASUAL WORK.
I changed Nojima senpai's
outer workwear and
his mustache.
Well, I need to
update 1st page
later some time.
During my manga
production, I do this
often such as
changing the appearance
of the characters.
Often, I do even much
wilder things such as
changing the panel order
or the page order, too.
As I'm making this
manga page by page
this time (Actually
it's my first time to do so),
you'll witness
this back and forth
process on time LOL.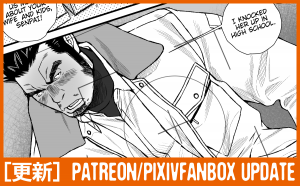 【Pixiv FanBox更新】
漫画「エロ動画を撮影するだけ!!(2)」
https://www.pixiv.net/fanbox/creator/2269822/post/778624
[PATREON UPDATE]
MANGA, "CASUAL WORK"(2)
https://www.patreon.com/posts/33264362




[PATREON & PIXIV FANBOX]
I've started PATREON.
I'm showing the backstage process of
my manga/illustration production.
Are you wondering how my manga/illustration is
created? Just come join and witness it!
For your convenience, all in English.


Here is Japanese version of PATREON,
PIXIV FANBOX.
My posts are both in Japanese and English.