EVENTS
This is the information page of the events where you could meet gay manga artists in Japan and purchase their work.
I hope those info could help you to make your plan to travel to Japan.
*dojinshi (どうじんし 同人誌)=fanzine, independent publication by artists.
MAJOR EVENTS
Comiket 95 (Fuyu komi) コミケット95(冬コミ)
DATE: Dec 29 – 31, 2018
LOCATION:Tokyo
VENUE:Tokyo Big Site

Comiket is the biggest "dojinshi" event in Japan.
You can purchase various "dojinshi" of various genres.
The date of gay manga (or gay friendly) area where you can meet Japanese gay manga artists is,
December 29th, 2018
For more information,
https://www.comiket.co.jp/info-a/TAFO/C94TAFO/cmkfor.html
Yarou Fest 2019 (野郎フェス2019)
DATE: May 26th, 2019
LOCATION:Tokyo area (Yokohama in Kanagawa)
VENUE:Marineria Yokohama (横浜産貿ホール マリネリア)
Yarou Fest is the biggest gay friendly dojinshi event in Japan.
This is the chance when you can meet many gay manga artists in Japan.
Whatever happen, definitely you must not miss this event.
For more information,
https://yaroufes.info/
?
THE EVENT I'LL BE AT
I'll be at Comic Market 95
on December 29th.
Here is the information
about it.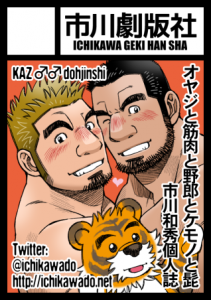 EVENT TITLE: Comic Market 95
VENUE: Tokyo Big Site
DATE: December 29th, 2018
ALLOCATION: WEST HALL (西地区,
Nishi chiku), ま(Ma) Block, 24a
CIRCLE NAME: Ichikawa Geki-Han-Sha
(市川劇版社)